IMPRESSION SAILING WEEK 03.11.- 06.11.2016
Dušan Ušeničnik with Loka Timing crew and special guest Danica Lovenjak on board sailboat Elan 450 Karpo are absolute winner of regatta Impression Sailing Week 2016

4th and 5th of November Biograd was marked by Burin Yachting Club and presentation of new logo OPEN regatta organised by David Hawlina. Now traditional international regatta Impression Sailing Week was done 10th time.
Clear blue sky, no wind, flat sea, rain with strong wind with gusts more than 35kts and unforgettable evening gatherings will remain in the minds of sailors from Slovenia, Croatia, Austria, Hungary, Czech Republic and Poland.
The first day 32 boats was accompanied with warm, sunny and windless day. That's why we got the winner in swimming competition and will not be easy to beat him next year. In very light wind conditions only one race was realized and winner of the day was sailboat Elan S5 Rotgipfler with skipper Chlaus Chabin from Austria.
At rough, windy and rainy weather on Saturday two races were realized. Evening part was also varied with music band Škabelini and karaoke where golden voice of Burin belonged to Mile Vilar, skipper of sailboat Echo who will have to repeat his performance at After Party Impression Night. This will happen in restaurant Glažuta on 14th December.
Sailors of Loka Timing, the absolute overall winners marked Impression Sailing Week regatta this year. With sailboat Karpo (Elan 450) and skipper Dušan Ušeničnik they were representing the biggest club on regatta. 2nd place was taken by Taia2&White Goose with skipper Goran Djordjevič. 3rd place went to sailboat Stribor with skipper Ana Gojčeta and crew from JK Šibenik.
Outstanding sailing was also performed by:
Winner of class One Design (Elan 350) sailboat Victor, skipper Christian Kargl,
Winner of class Open 1 skipper Peter Keršan with Fasala Sailing Team on sailboat Polaris (Elan 333)
And winner of class Impression on sailboat Evolution (Impression 444), with crew from Neptun Yachting Slovenija and skipper Iztok Svetina.
After the ceremony and awards there was a lottery game No skipper – No price, where Janez Zajc member of JK Loka Timing won a brand new pair of Elan skis.
Within the prize giving ceremony many prestigious awards were awarded from sponsors and organizer. All sailors were very satisfied with the event and the overall organization.
David Hawlina announced next Impression Sailing Week 2017 and already invited all sailing enthusiasts to meet again a week before regatta Jabuka on begining of November 2017!
Official results and photos can be found on www.burin-club.com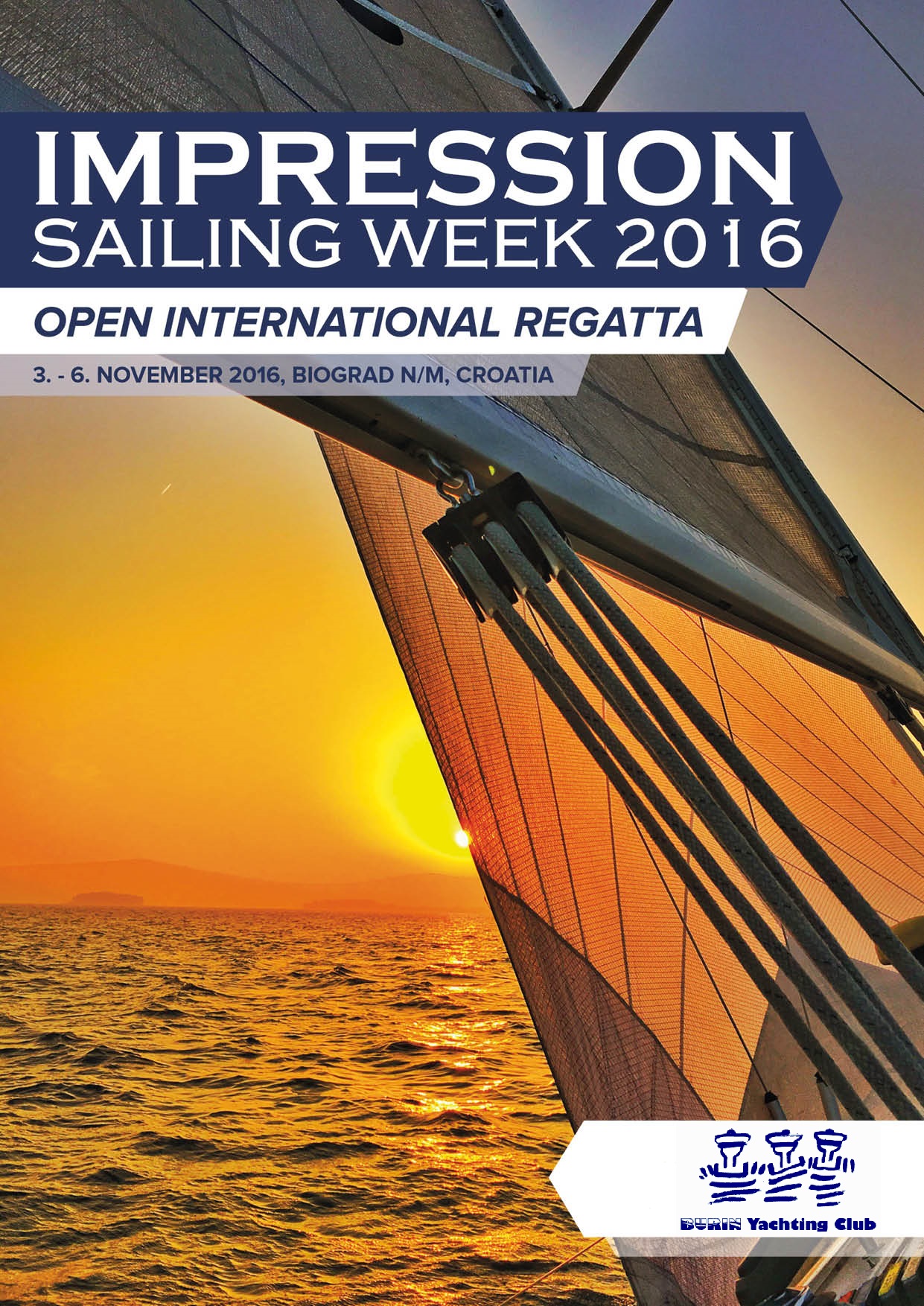 10. Impression Sailing Week 2016
International Regatta OPEN / ORC
3rd to 6th November 2016
Biograd n / m, Croatia

Organized by Burin Yachting Club in cooperation with the yacht club Biograd will take place between 3rd and 6th of November. Traditional international regatta Impression Sailing Week – this time shows loyalty number 10. and full of novelties.

The regatta is one of the biggest sailing events in Croatia and we expect more than 300 sailors on a boat and more than 50 boats in different categories according to the classification of OPEN and ORC. All visitors and sailors will enjoy refreshments with live music all three nautical evenings.
Join us today and fill out an application!
Early bird price for skippers and crews until 24th of October at midnight guarantees you a lower price.

Special offer for all individuals without their crew and boat - All inclusive price is only 279 EUR / person
The program of the regatta, entry form and all information can be found at: www.burin.si
Snapshots and video presentation of last year's regatta Impression Sailing Week 2015

Your questions may be addressed to byc@burin-club.com.