ELAN 350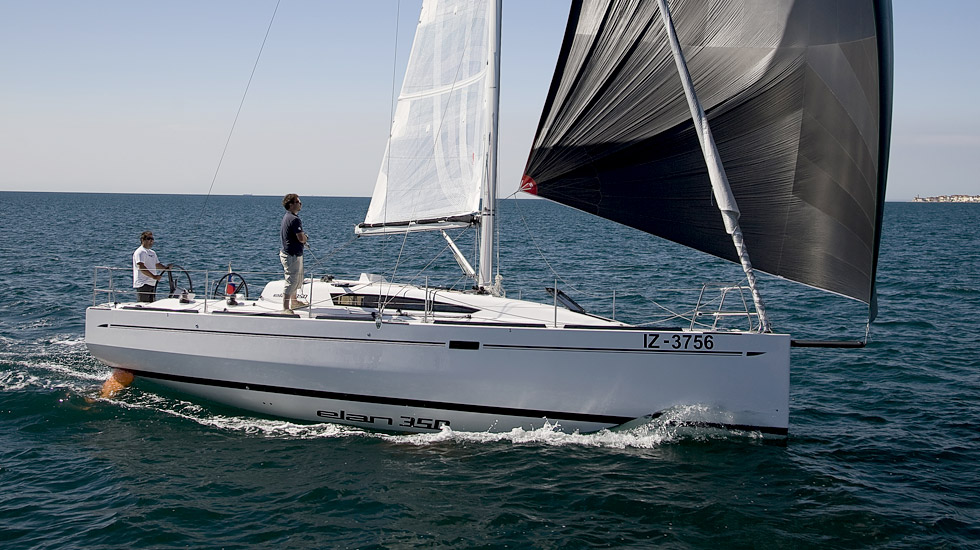 The Open-class inspired Elan 350 has once again consolidated Elan's reputation as a builder of exciting performance-cruising sailing yachts, where neither performance, nor the cruising capabilites are left to compromise.
Its wide transom, twin-rudder arrangement and chined hull deliver excellent control even at high heel angles. Her T-shaped keel ensures a lower centre of gravity and improved righting movement, which in turn reduces displacement. At the end it all adds up to an exhilarating sailing performance, which one expects on much bigger boats. Maybe the best feature yet is how effortless she is to sail, even in challenging conditions.
The powerful aft quarters that gives the Elan 350 her power and pace also engenders her with an unrivalled cruising accommodation, with a really spacious aft cabin, generous heads compartment and an aft stowage locker. Her sailing capabilities and comfortable interior will definitely be the envy of many larger cruising yachts. The Elan 350 will definitely put a big grin on every sailing enthusiast's face.
Technical specifications
Length Overall 10.60 m
Hull Length 10.60 m
Length at waterline 10.10 m
Beam 3.50 m
Draft 2.15 m / 2.35 m
Displacement 5350 kg
Ballast 1385 kg / 1300 kg
Water capacity 175 litres
Fuel capacity 75 litres
Engine 30 HP
Mainsail 35.91 m²
Genoa 29.68 m²
Gennaker 110 m²
I 13.77 m
J 4.029 m
P 13.49 m
E 4.63 m
Boat design category CE A
Design Rob Humphreys Yacht Design
& Elan Design Team